Vijay leads marketing globally for Sinorbis. A psychology graduate with strong global marketing expertise from Unilever, Philips & Shazam. Vijay has also held senior roles in media in the UK & Australia. He has advised edtech companies & startups.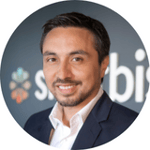 Nicolas Chu
CEO at Sinorbis
A global digital thought-leader, Nicolas Chu is the CEO and founder of Sinorbis, the multi-award-winning company that revolutionises the way businesses and organisations enter Asian markets through technology. He also serves as a Professor of Practice at the UNSW Business School in Sydney.
Prior to founding Sinorbis, he was the global President of HotelClub and Ebookers, two leading global online companies operating in more than 30 markets with an annual turnover of US$2.5 billion. HotelClub and Ebookers were part of Orbitz Worldwide, which was acquired for US1.6bn in 2015.
Nicolas also spent eight years at Expedia, holding executive positions in Europe and Asia Pacific. For several years he led the APAC retail and product strategy for the group and then was the Managing Director of Expedia Australia and New Zealand. Under his leadership, the company became the leading online travel agency in the region.